AROUND THE ISLAND: A REFLECTION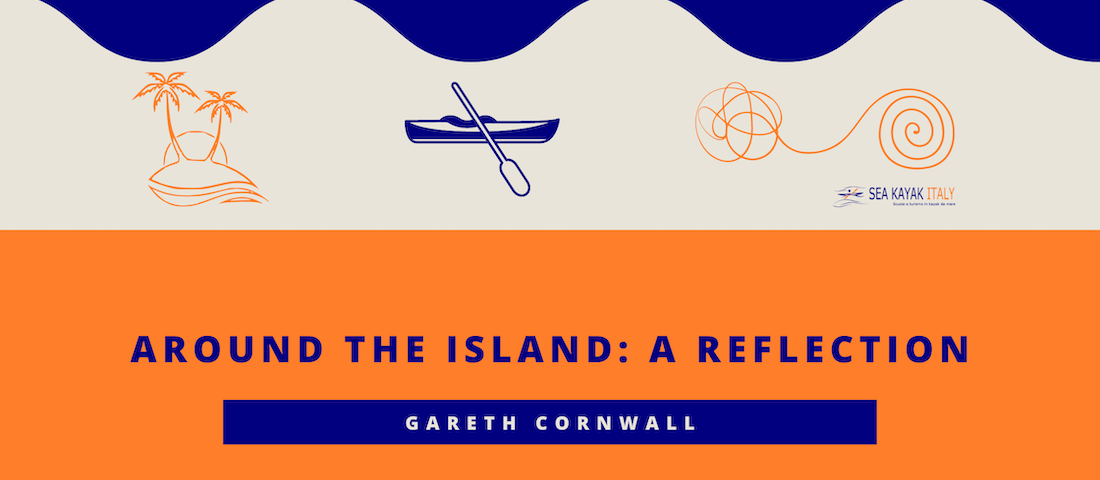 There are some basic numbers that capture my journey around the Island of Elba. 6 days, 5 nights, 11 people (8 Italians, 2 Austrians, 1 British; 6 men, 5 women), 132km of paddling. Technology provides me with personalised data. 26,263 calories burned (4,377 cals per day vs my average 2,568 cals per day), 1.8kg of muscle added to body composition, 1.9kg of fat lost, average heart rate variability up 9%.  
These numbers detail a trip with increased activity resulting in a healthy impact on the body.
We tend to often look at things in the modern world like this, a quantification of what we did and its statistical impact, an epistemological view of knowledge and facts. It tells a story of course, but only half the story.
The hidden half is, for me, the real story of my journey around the Island. This is a complimentary view, an ontological view, a consideration of what it is to 'be' alongside what it is to 'do'.
The poet Pablo Neruda, who lived for a time exiled in Italy, wrote in his poem, 'The Sea',
I need the sea because it teaches me.
I don't know if I learn music or awareness,
if it's a single wave or its vast existence,
or only its harsh voice or its shining
suggestion of fishes and ships.
The fact is that until I fall asleep,
in some magnetic way I move in
the university of the waves.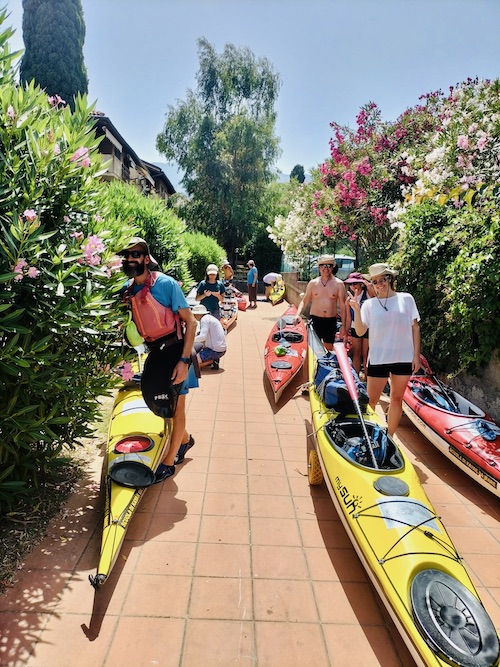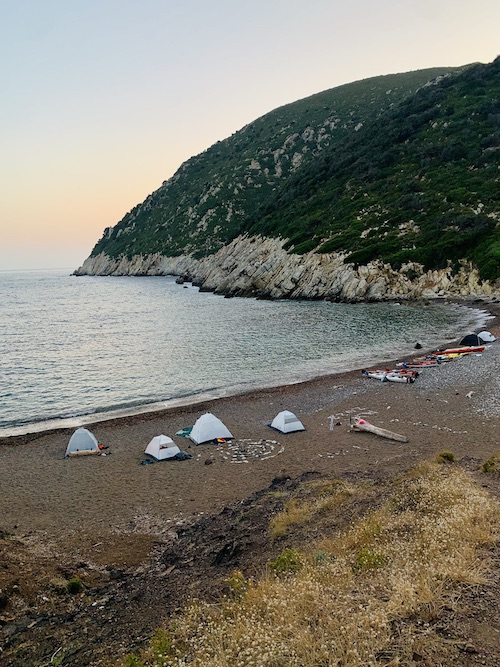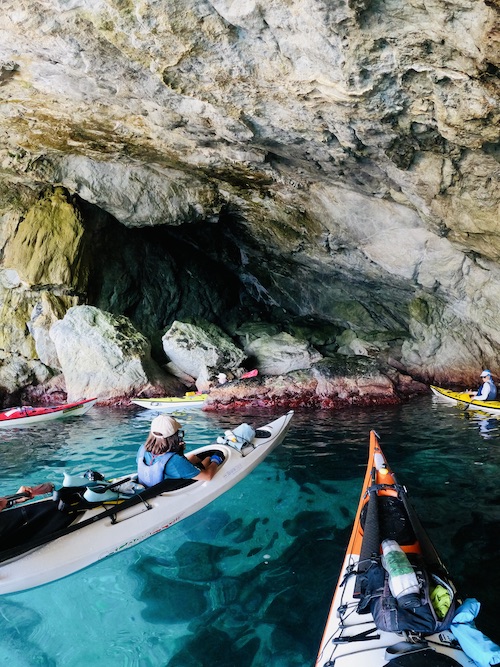 The journey allowed me privileged access to the university of the waves.
I learned from my expert tutors, Giuseppe and Alessandro, about the beauty of Elba, the rich diversity of geology, the changing forces of the ocean, the delicate ecosystem below the surface, the craft of kayaking, the ways of the sea. I experienced the soothing rhythm of a paddle as it strokes through the water, the sensory thrill of powering oneself from point to point, the joy of dangling warm hands in a cool ocean after pushing through the waves.
The quiet contemplation of space and time as we made our way around the island, the warm greetings to other travellers, the camaraderie of strangers who became friends, the fun of flicking water, the thrill of jumping out of the kayak, putting on a scuba mask and discovering a shipwreck or reaching out to touch the abundant sea life. The feeling of exhilaration in my senses and an overwhelming joy in my heart.
And on shore, when we stopped for a rest or for the night?
A friendship and bond that forms from living together in close quarters for a shared goal. The times we laughed together, broke bread, the beautiful pasta dishes, the fresh fish (including the one Nicole caught!), the wonderful cheese that would emerge from the compartment of a kayak like a treasured haul, the times we did yoga together, swam to discover, made stone towers in meditative moods, made camp, washed up together, hung up our clothes to dry, found the ideal spot to do what bears do in the woods!
Waking up early to watch the sunrise and feeling the warmth and energy of the sun's life force. Watching beautiful sunsets, after a day of paddling, with a full belly and ready for the kind of sleep that only comes when your body has worked purposefully, and you lie next to the lapping sounds of the ocean, looking up at a skyful of stars.
These experiences can't be quantified, no percentage can ever describe them. To travel to Elba, to undertake the journey, to experience all that is on offer at sea and on shore, is to partake in the university of the waves, to re-connect with life, to feel fully alive and to experience what 'being' a human being truly means.
TRADUZIONE IN ITALIANO 
Intorno all'isola: una riflessione
Ci sono alcuni numeri fondamentali che catturano il mio viaggio intorno all'Isola d'Elba. 6 giorni, 5 notti, 11 persone (8 italiani, 2 austriaci, 1 inglese; 6 uomini, 5 donne), 132 km di pagaiata. La tecnologia mi fornisce dati personalizzati. 26.263 calorie bruciate (4.377 calorie al giorno contro la mia media di 2.568 calorie al giorno), 1,8 kg di muscoli aggiunti alla composizione corporea, 1,9 kg di grasso perso, variabilità media della frequenza cardiaca aumentata del 9%. Questi numeri descrivono in dettaglio un viaggio con una maggiore attività con conseguente impatto salutare sul corpo.
Tendiamo spesso a guardare le cose nel mondo moderno in questo modo, una quantificazione di ciò che abbiamo fatto e del suo impatto statistico, una visione epistemologica della conoscenza e dei fatti. Racconta una storia ovviamente, ma solo metà della storia.
La metà nascosta è, per me, la vera storia del mio viaggio intorno all'Isola.
Questa è una visione complementare, una visione ontologica, una considerazione di ciò che significa "essere" accanto a ciò che significa "fare".
Il poeta Pablo Neruda, che visse per un periodo esiliato in Italia, scrisse nel suo poema Il mare,
Ho bisogno del mare perché mi insegna.

Non so se imparo la musica o la consapevolezza,

se è una singola onda o la sua vasta esistenza,

o solo la sua voce aspra o il suo splendore

suggerimento di pesci e navi.

Il fatto è che finché non mi addormento,

in qualche modo magnetico mi muovo

l'università delle onde.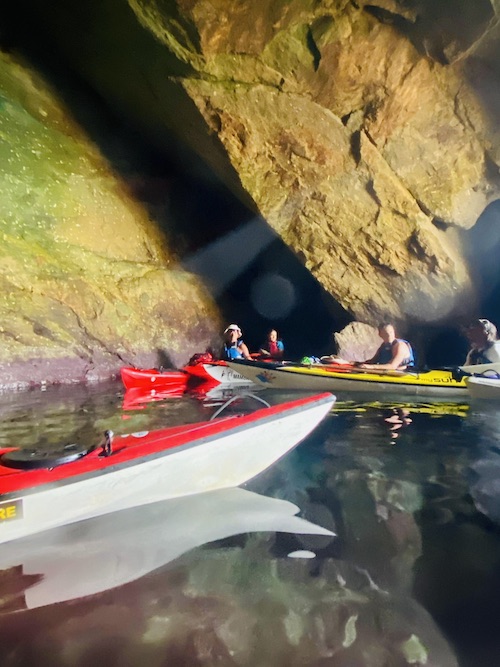 Il viaggio mi ha permesso un accesso privilegiato all'università delle onde.
Ho imparato dai miei esperti tutor, Giuseppe e Alessandro, la bellezza dell'Elba, la ricca diversità della geologia, le forze mutevoli dell'oceano, il delicato ecosistema sotto la superficie, l'artigianato del kayak, le vie del mare. Ho sperimentato il ritmo rassicurante di una pagaia che accarezza l'acqua, il brivido sensoriale di spingersi da un punto all'altro, la gioia di far penzolare le mani calde in un oceano fresco dopo aver spinto le onde. La tranquilla contemplazione dello spazio e del tempo mentre giravamo per l'isola, i calorosi saluti agli altri viaggiatori, il cameratismo di sconosciuti che sono diventati amici, il divertimento di scuotere l'acqua, l'emozione di saltare fuori dal kayak, indossare una maschera subacquea e scoprire un naufragio o allungare la mano per toccare l'abbondante vita marina. La sensazione di euforia nei miei sensi e una gioia travolgente nel mio cuore.
E a terra, quando ci fermavamo per riposarci o per la notte? Un'amicizia e un legame che nascono dalla convivenza ravvicinata per un obiettivo comune. Le volte in cui abbiamo riso insieme, spezzato il pane, i bei piatti di pasta, il pesce fresco (compreso quello pescato da Nicole!), il meraviglioso formaggio che usciva dallo scompartimento di un kayak come un tesoro prezioso, le volte in cui abbiamo fatto yoga insieme, nuotato per scoprire, costruito torri di pietra in stati d'animo meditativi, fatto campo, lavato insieme, steso i nostri vestiti ad asciugare, trovato il posto ideale per fare quello che fanno gli orsi nei boschi!
Svegliarsi presto per guardare l'alba e sentire il calore e l'energia della forza vitale del sole. Guardando splendidi tramonti, dopo una giornata di pagaiata, con la pancia piena e pronto per il tipo di sonno che arriva solo quando il tuo corpo ha lavorato intenzionalmente, e ti sdrai accanto allo sciabordio dell'oceano, guardando un cielo pieno di stelle.
Queste esperienze non possono essere quantificate, nessuna percentuale potrà mai descriverle. Viaggiare all'Elba, intraprendere il viaggio, sperimentare tutto ciò che è offerto in mare e a terra, è partecipare all'università delle onde, riconnettersi con la vita, sentirsi pienamente vivi e sperimentare cosa significa veramente "essere" un essere umano.
Article written by Gareth Cornwall
I have worked extensively in realising human potential, applying processes and practices from business psychology, clinical psychology and organisational development in shaping tailored solutions with organisations including: Nortal, SAIC Motor, NHS, Samsung, Oxfam, HM Government, Wickes, GANT, Wasps Rugby, Swissport and British Airways. My work has encompassed large scale organisation wide culture change programmes, a focus on team climate and optimal team performance and critical support for individuals both as a coach and a therapist. Understanding the unique context of the presenting situation is central to my work and I utilise bespoke insight tools and psychometrics to support the identification and addressing of root cause issues.

Often my work, whether as a cognitive behavioural therapist with a patient, a coach with a senior leader or a facilitator with a leadership team, is about enabling awareness and insight into unhelpful beliefs and behaviours in order to create the space for potential to be fully expressed. In this process, the importance of psychological safety, a safe space to grow, is critical and I draw on the latest learning and insights from neuroscience and polyvagal theory in ensuring that this resonates both cognitively (thought) and emotionally (felt).

I support individuals, teams and organisations to express themselves healthily and optimally, achieving goals and delivering sustainable results.