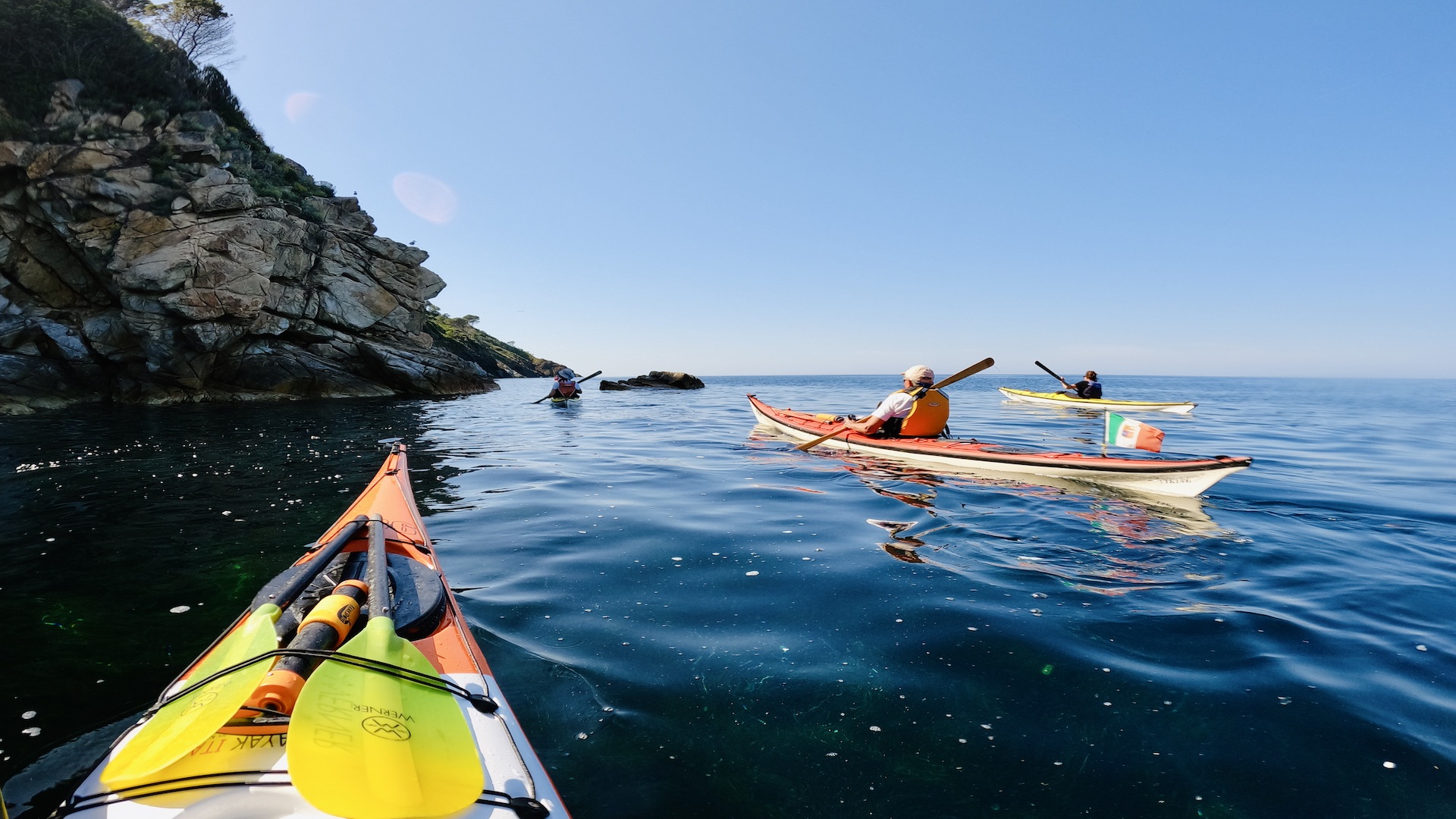 Sea Kayak Tours
in Elba Island
Sea Kayak Tours in Elba Island
Your outdoor experience on Elba Island
With our tours we offer you the extraordinary opportunity to immerse yourself in the nature of one of the most beautiful islands of the Tuscan Archipelago National Park, aboard kayaks derived from traditional Inuit boats.
The various excursions include a visit to the island's most evocative stretches of coast with the opportunity to swim in crystal clear waters, to learn the main sea kayaking techniques and to learn about aspects related to the geology and biology typical of the island.
An unforgettable experience!
You will be accompanied by a Sea Kayak Italy guide-instructor, Italian and English speaking, trained following the paths of the FICK, British Canoeing and I.S.K.G.A. federations.
Included in the price
Sea Kayak Italy provides all the necessary equipment: fiberglass kayaks equipped (at the top of the sector), Greenlandic or European type paddle, life jacket, spray deck, plasticized route map.
Requirements to participate
It is required be able to swim
ELBA SEA KAYAK TOUR - day tour
Tour aimed at everyone who wants to spend a day at sea and get to know the Island of Elba from a unique point of view!
ELBA DISCOVERY - two days with overnight
This tour is aimed at all lovers of outdoor life! It is a great experience in the world of sea kayaking, preferably to be done at the end of a course.
Personalized excursion on request
We organize customized sea kayak tours for both expert paddling groups and beginners. Sea kayaking is an ideal activity for corporate team building and bachelor / bachelorette parties. These particular offers are proposed for groups of at least 4 people.
It is necessary to book well in advance.
Estimate on request insert email info@seakayakitaly.it
Excursions for school groups
For school groups we offer theoretical and practical lessons of approach to sea kayaking with daily tours.
It is necessary to book well in advance.
Estimate on request insert email info@seakayakitaly.it